News Items & Releases


17.02.14
Canadian Defence Foundation partners with America's The Flag & General Officers' Network Read more
13.10.12
Book Release: DOOMSDAY: Iran - The Clock is Ticking by James G. Zumwalt Read more
25.09.12
Book Release: Practicing Military Anthropology by Robert A. Rubinstein, Kerry Fosher, Clementine Fujimura Read more
15.08.12
Mobile Computing: Recognizing that the Biggest Challenges We Face in 2012 and Beyond is Our Behavior and Use of Mobile Devices Read more
19.03.12
The Canadian Defence Foundation honours and recognizes Rear Admiral (Ret.) James J. Carey of the USA for his on-going support of Canadian efforts. Read more
02.03.12
Meet our newest Advisory Board members, persons who represent the next generation of Canadian expertise and leadership in the field. Read more
29.02.12
Cybersecurity is becoming an increasing issue in our daily lives, but far too often, we are the biggest vulnerability and are not even aware of it. Read more
04.01.12
The Canadian Defence Foundation announces formal working relationships with domestic and international players in academia, the think tank world, and in the private sector. Read more
04.10.11
There is a new generation of bacteria we are not prepared for. How incentivizing antimicrobial research and development will not only protect those on the front line, but each and every once of us. Read more
20.09.11
Members of the Canadian Defence Foundation travel with our supporters to the United Nations in New York City. Read more

America's Flag & General Officers' Network working closely with Canadian Defence Foundation

Toronto, Ontario | February 17, 2014


By George Platsis, Vice-Chairman & Executive Director
News Release
The Canadian Defence Foundation is indeed fortunate to have, as one of our key strategic partners, THE FLAG & GENERAL OFFICERS' NETWORK, Inc. of the USA (TFGON). This multi-service American War Veterans Organization is incredibly strong, as its membership includes over two-thirds of all living American Flag and General Officers, from all five service branches of the US military: Army, Navy, Air Force, Marine Corps, and Coast Guard. What makes this organization so special is that the members are a mix of admirals and generals that are: active duty, in the National Guard or the reserve component of their respective service, or retired. More importantly, this fine group has been at the helm of the executive-level uniformed leadership of the US armed forces for well over the last twenty years or so, and continue to serve as senior government officials, business executives, and community leaders.
Membership ranges from one- to four-star, and even one five-star general officer, General of the Army and former President of the United States, Dwight D. Eisenhower who became a member, posthumously, at the behest of his son, Brigadier General John Eisenhower, USA (Ret.). Indeed, this is a truly rare and fantastic collection of wonderful and talented individuals!

History & The Partnership
               
Members of our current board have worked informally with TFGON for over five years, but we have formalized a more strategic partnership since our inception in 2011. Specifically, we have coordinated and facilitated US admirals and generals to speak at, and participate in, symposiums, panels, conferences, and workshops in Ottawa and Toronto. We have also liaised with TFGON to assist select Canadians, in the fields of defence and security, to attend various US-based National Defense and Homeland Security highly prestigious events and courses, including those in Washington, DC (through the Department of Defense) and throughout the country's colleges and universities. Many of these initiatives and opportunities have been a function of the support from TFGON's elected Chairman, Rear Admiral James J. Carey, USN (Ret.) and elected Treasurer and Board Member, Rear Admiral Donald P. Loren, USN (Ret.). These two truly superb gentleman have been good friends to Canada and the Canadian Defence Foundation. We are indeed fortunate to have TFGON a strategic partner!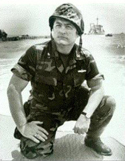 Rear Admirals
James J. Carey & Donald P. Loren
TFGON was formed in 1995 by USN Rear Admirals James J. Carey (former Chairman of the US Federal Maritime Commission) and Charles McGrail (former carrier task group commander in the Pacific). Their backgrounds are at the TFGON website (www.TFGON.org) or by clicking their names. Admiral McGrail unexpectedly passed away in 2000 and Admiral Carey was named National Chairman. He continues to hold the position, being re-elected ever since. Under his leadership, the organization has grown in size and stature, standing at over 3,700 members by early 2014.
The Canadian Defence Foundation is fortunate to have built a close working relationship with TFGON and Admiral Carey. We are in regular contact, often several times a week, and look forward to developing more joint programs and initiatives. Admiral Carey long has been an excellent friend to Canada (including his pre-military days when he conducted regular tourist tours to Canada) and for that, he welcomed our invitation to sit on our Board of Directors since 2011. He has continuously served since then and our leadership meets with him several times a year, in Toronto and Washington.
Admiral Loren is a significant contributor to our efforts and mutual interests as well. He has never turned down a request by us, frequently appearing as a lecturer at Canadian Forces College in Toronto or leading workshops in Ottawa through the Schulich Executive Education Centre (York University, Toronto). To Canada's great appreciation, he has also testified numerous times before Federal Parliamentary Committees, offering to our government the benefit of his insights and experiences.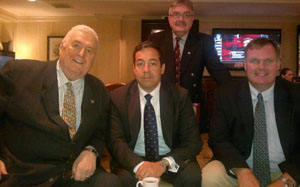 Canadians and Americans in Washington, DC
Rear Admiral James J. Carey with Canadians LCol (Ret.) Walter J. Perchal (standing),
LCol Paul Brunberg (right), and Capt Michael Wiesenfeld (centre)

Future Endeavours & Appreciation
TFGON has been particularly helpful with other Canadian organizations as well, as the Canadian Defence Foundation acts a conduit to place interns, scholars, and recent graduates, into US venues where they can learn as much as possible about the mutual interests and how each country handles: defence, security, natural disaster, and emergencies. To have this ability to tap into the American infrastructure has been of tremendous benefit.
TFGON - through the assistants of persons like Rear Admirals Carey and Loren - has been of immense help in preserving the defence and security of our two great nations and safeguarding our mutual interests. Its membership has been a stalwart ally, never turning us down. For all that, the Canadian Defence Foundation wishes to extend our appreciation and thanks by recognizing America's The Flag & General Officers' Network for all that they do not only for the United States, but for Canada as well. We could not have a better friend. To the fine membership and the organization, we salute you!